Vacation Bible School
June 13-17, 2022
9:00-11:00am & 6:00-8:00pm
VBS is coming! The best week of the summer will be June 13-17 where kids gather on our campus for a time of worship, crafts, and play. There is a morning session and an evening session. Space is limited so sign up today!
For an opportunity to volunteer and serve during VBS visit THIS LINK to sign up.  You must attend Cornerstone regularly in order to serve.
Click HERE to start listening to this year's VBS music play list.
Check out our podcast where our family ministry team will discuss everything from discovering your child's love language, to serving together as a family, to what it means to help our kids love the church. 
We're here to help!

Contact Us with questions
Savannah Cariaga
Elementary Ministry Director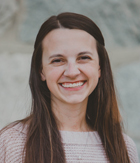 Savannah graduated from Biola University, receiving her Bachelor of Arts degree in Christian Ministries with an emphasis in Children's Ministry, as well as a minor in Bible and Theology. She is married to Steven, a data analyst at APU. Their family includes a beautiful daughter, Piper Laurel, and a rambunctious pug, St. Augustine.  On her days off you can find Savannah at Disneyland, a coffee shop, Chick-fil-A, or at home relaxing with her family.