Welcome to Cornerstone Kids! We have prepared special lessons to watch as a family while our services are temporarily canceled. Click the video to the right to hear instructions on how to participate. 
Welcome to Cornerstone Kids! Here at Cornerstone we are passionate about reaching kids with the Gospel of Christ and equipping them to fearlessly change the world for Jesus. We have well-trained and background-checked volunteers ready to love and teach your children every weekend. Come see for yourself!
What to expect: 
8:00 am service is Breakfast Club. The kids will attend worship time with their parents, and then the pastor will dismiss the kids to their teachers. The kids will get a half hour Bible lesson followed by free breakfast!
9:30 am and 11:00 am are traditional Sunday school classes complete with games, lessons, and crafts. Drop your kids off in the Cornerstone House and enjoy church!
We have a check-in system for all services to ensure the safety of your children. On your first Sunday we recommend arriving a few minutes early so one of our greeters can accompany you to the kids' building and we can get your children checked in!
Check out our podcast where our family ministry team will discuss everything from discovering your child's love language, to serving together as a family, to what it means to help our kids love the church. 
We're here to help!

Contact Us with questions
Savannah Cariaga
Elementary Ministry Director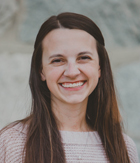 Savannah graduated from Biola University, receiving her Bachelor of Arts degree in Christian Ministries with an emphasis in Children's Ministry, as well as a minor in Bible and Theology. She is married to Steven, a data analyst at APU. Their family includes a beautiful daughter, Piper Laurel, and a rambunctious pug, St. Augustine.  On her days off you can find Savannah at Disneyland, a coffee shop, Chick-fil-A, or at home relaxing with her family.