The Cornerstone Women's Community
Cornerstone Bible Church Women's Ministry is dedicated to instructing and encouraging women of all ages in their personal relationship with our Lord and Savior Jesus Christ, and to applying God's Word in their daily lives.
Under the umbrella of Women's Ministries are many Bible studies, small groups, special events and activities that are dedicated to assisting women in growing in the grace and knowledge of our Lord Jesus and a deeper understanding of God's unfailing love for them.
Our desire, as a multi-generational ministry, is to encourage women to invest in the lives of others through serving, prayer and loving support of one another, authentically and compassionately sharing life together.
THE GOSPEL OF MARK
    – THE JESUS WE'RE ACHING FOR
Begins Tuesday, January 25
9:30am in the Worship Center
7:00pm in the Cornerstone House
This year, partner with other women  to grow in your understanding of Jesus. In The Gospel of Mark, a study by Lisa Harper, you'll follow Jesus through His days of early ministry to the cross and discover what it means to be the recipients of His overflowing compassion and the very reason for His all-consuming passion. Register ONLINE HERE or call Pam Martin at 626-914-2881. The study book costs $20.

 Contact: Pam Martin
MOMS @ Night
Making our Mothering Significant
Thursdays, January 20 through May 5, 2022
6:30-8:30pm, Under the Tent
We have planned a great new semester for our moms of all ages.  Make plans to be with us on the first and third Thursday evenings of the month.  There will be great speakers, lots of laughter, some tears together, and the encouragement you need to persevere as a mom. Cost is $20 for the semester.
January 20 ~ February 3 & 17 ~ March 3 & 17 ~ April 7 & 21 ~ May 5
Our Living Hope Podcast
Listen & Connect with others over timeless truths about God's character and His work in the lives of women like you and me. Our podcast is available for women, their friends, and family.  Eight Cornerstone ladies share transcendent, foundational truths that the Lord has impressed on their own hearts. We promise you will be blessed, encouraged and challenged.
The link to the podcast is below, as well as a pdf of the study guide.
Week 1 – Becky Keife "Choosing Living Water"
Week 2 – Dreena Peck "Facing Giants"
Week 3 – Heather Hitzeroth "God's Complete Love & Grace"
Week 4 – Amanda Shibley "Reaching Up by Reaching Out"
Week 5 – Candace Williams "Bread Crumbs: Disappointments"
Week 6 – Diane Hoback "Perseverance"
Week 7 – Kari Shepherd "How to Pray"
Week 8 – Jen Walker "Drawing Near to God"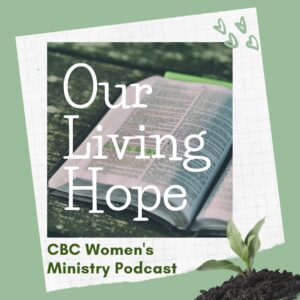 Psalms
The Goodness & Greatness of God
The Psalms are full of the goodness and greatness of God! There are both timeless and timely truths that we can discover together. Audra Churchill has written and produced a weekly podcast with corresponding studies that will lead us through 8 different Psalms of praise, thanksgiving, lament & wisdom. The study consists of 8 weekly podcasts and corresponding study questions to help you go deeper into God's Word.  It works well as both a group study, and as a personal Bible study.
The links to the podcast and study questions are below.  Call the church office or contact Pam Martin (pammartin@cbcglendora.org} for more information.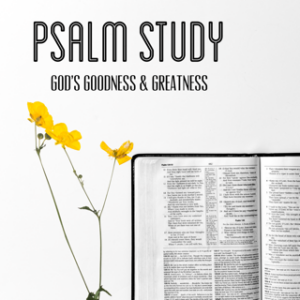 CBC Women's Summer Podcast

The Beatitudes get to the essence of who we are to be as imitators of Christ and the gracious benefits that come when we live that way. We can have all the right actions in the world, but if our motives are not right, we've missed the kingdom Jesus in describing. The Beatitudes show us how beautiful the blessings are that come from genuine attitude and heart transformation. For 8 weeks, we will learn what God's kingdom looks like here on earth and learn how to progressively embody that picture as we live like, and for, Christ in our daily life. This study has 8 weekly podcasts and an accompanying study guide with discussion questions to help dive deeper in Scripture and facilitate spiritual growth.